<![if !vml]>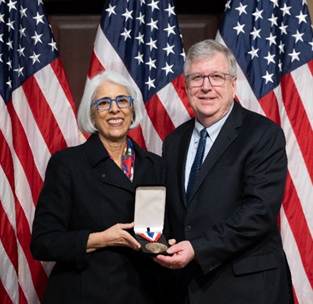 <![endif]>    Eric R. Fossum is best known for the invention of the CMOS image sensor "camera-on-a-chip" used in billions of cameras, from smart phones to web cameras to pill cameras to DSLRs.  He is a solid-state image sensor device physicist and engineer, and his career has included academic and government research, and entrepreneurial leadership.  He is currently a Professor with the Thayer School of Engineering at Dartmouth.
  Born and raised in Connecticut, he received his B.S. in Physics and Engineering from Trinity College in Hartford and the Ph.D. in Engineering and Applied Science from Yale University. He was a member of Columbia University's Electrical Engineering faculty from 1984-1990.  In 1990, Dr. Fossum joined the NASA Jet Propulsion Laboratory, California Institute of Technology and managed JPL's image sensor and focal-plane technology research and advanced development. While at JPL, he invented the CMOS active pixel sensor (APS) camera-on-a-chip technology and led its development and subsequent transfer of the technology to US industry.  Dr. Fossum co-founded Photobit Corporation in 1995 to commercialize the technology and served in several top management roles including CEO. In late 2001, Photobit was acquired by Micron Technology Inc. From 2005-2007, he was Chairman and CEO of Siimpel Corporation developing MEMS-based camera modules with autofocus and shutter functions for cell phones. In 2008 he joined Samsung Electronics as a technical consultant.  In 2010 he became a faculty member of the Thayer School of Engineering at Dartmouth where he teaches, performs research and coordinates the School's Ph.D. Innovation Program.
  Dr. Fossum has published 262 technical papers and holds 199 patents worldwide.  He co-founded the International Image Sensor Society (IISS) and is Past-President.  He is a Fellow member of the Institute of Electrical and Electronic Engineers (IEEE), a senior member of the Optical Society of America (OSA), and a member of the Society of Motion Picture and Television Engineers (SMPTE).
 Dr. Fossum is a member of the National Academy of Engineering and a Charter Fellow of the National Academy of Inventors.  In 2011 he was inducted into the National Inventors Hall of Fame.  Other honors include the Yale Becton Prize, the National Science Foundation Presidential Young Investigator Award, the NASA Exceptional Achievement Medal, the Photographic Society of America's Progress Medal, the Royal Photographic Society's Progress Medal and the IEEE Andrew Grove Award.
    Contact: Eric at this web address.  Extended Biography
    Updated 15 Sept 2013